If we build it, you're going to come...Right?
Home Run Dugout is the real-life story of a dream, and the team that is working to see it through. Nick Hermandorfer (probably German for Home Run), the self-proclaimed "number one drafted little leaguer in all of Texas," and Tyler "Bam Bam" Bambrick met through Nick's little brother AJ — the Cooper Manning of this story. Nick was just finishing business school at UT, and Tyler was just finishing 5 years in the military. On a fishing boat in Canada, the two swapped stories about life and wondered what came after deployments and diplomas.
They agreed that hitting a home run was the best feeling they could remember, and wanted to bring that experience to everyone. Nick wanted to build a place that played up the fun around baseball and eliminated the intimidation. Somewhere friends, coworkers, and dates could impress each other without the fastballs and sweaty, rented helmets. There's a reason no one goes to the batting cages on a first date. Popcorn for dinner, anyone?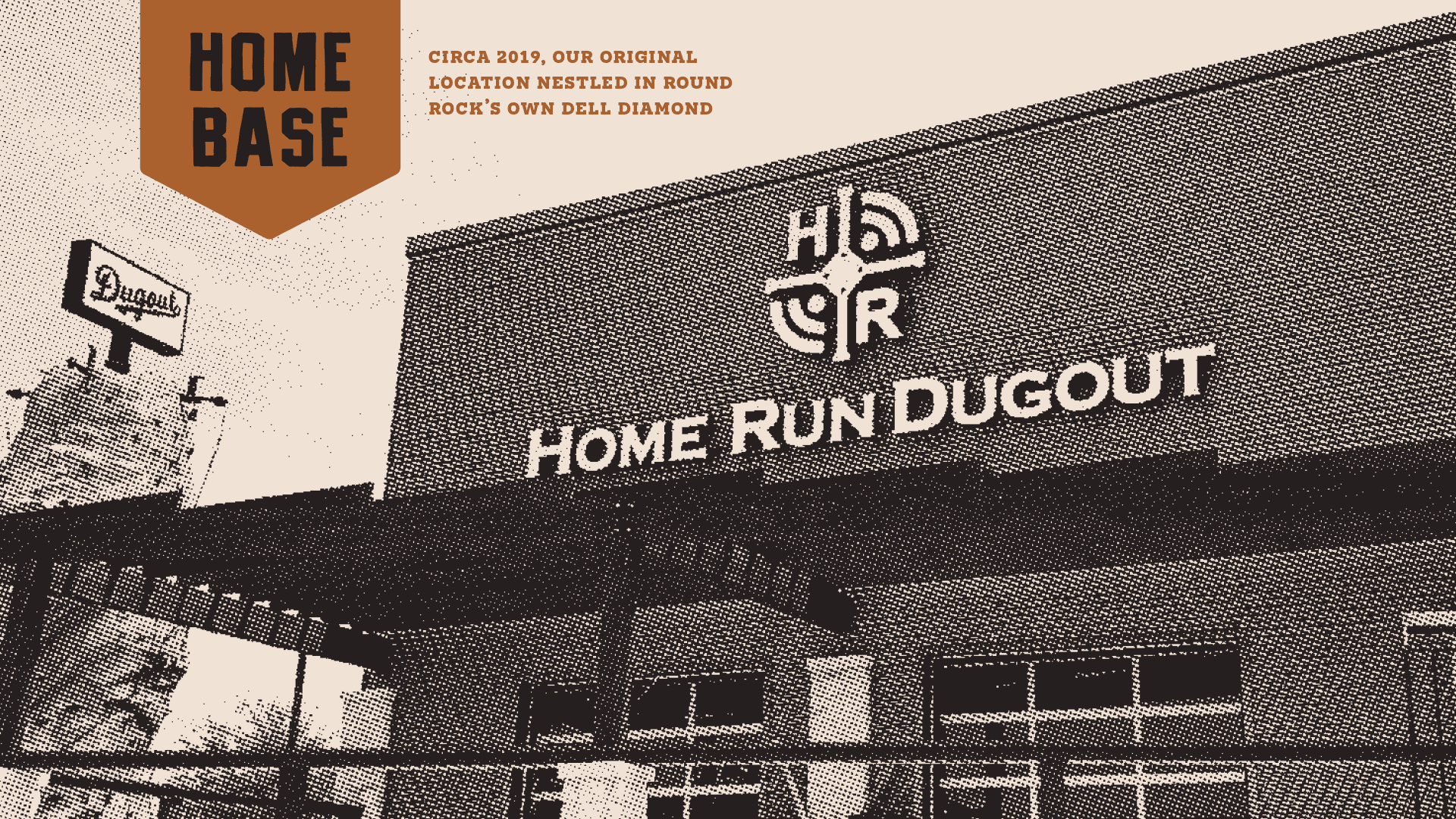 Tyler then shared a dream he had one night — that he had only shared with his wife, Katherine — that he was going to work in baseball one day. She was all-in and agreed to help him see it through, whatever that meant. Turns out it meant delaying their wedding. Talk about a dream wife. Back on American soil, they talked to their dads about it and got the same unexpected advice — go for it, now, before obligations and expectations creep up and get in the way. And here we thought dads were supposed to live vicariously...
The two decided to chase their dream, rented an R.V., and drove to Lambeau Field, in Green Bay. You know, the football place. They visited almost a dozen baseball parks, though, for inspiration and decided that they wanted to capture the spirit of the dugout. A place where you could spit, cuss, cheer each other on, and have a great time with your team.
They got to work in Tyler's Mamaw's garage in San Marcos (hey, it was rent-free), expanded to a warehouse in Dripping Springs (where the pair stealthily lived for six months, sleeping in hammocks and showering at the gym), and eventually the stadium at Dell Diamond.
Today, backed by friends, family, and eventually a few investors, Home Run Dugout is set to break ground in Katy, Texas — a stand-alone complex with 12 simulated hitting bays, 20+ craft beers, a menu worthy of the brunch crowd, live music, and a backyard mini-field. In short, everything nowhere else has, all in one place.
It's always a good idea to chase a dream. Even if it causes you to delay a wedding, sleep in a warehouse, shower in a gym, open during a pandemic, and work around the clock. Because when it's all said and done, you'll know why you did it.
And for us, we really just want to get a bat in more people's hands and share our favorite feeling — bringing people of all walks together around a shared passion, for a great time.